Tag: impressionist posters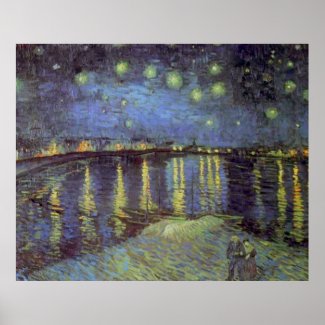 Van Gogh's Starry Blue Night Over Rhone Painting Poster
by
hizli_art
Browse for more
framed art posters
at zazzle
It is difficult to express Van Gogh in terms of art. It is always absolutely vital, because it is power; and power is always beauty. His harmonies are of a physical order, and therefore outside the melancholy or the delight to which the mind is stirred by other sorrowful or cheerful pictures. The reaction induced by his works is at first a purely physical one.
The planes of his canvases, which seem to have been pro­duced, not by brushes, but by the stonemason's implements, scream, and we are sometimes tempted to scream in unison, just as we feel inclined during a storm to shout aloud with the thunder. It is the cry of the human animal, whose blood is quickened by the enigmatic relation of the individual to the cosmos, who yearns to penetrate into his environment, into Nature, and destroys either this or himself if he does not succeed.
Van Gogh did not produce his art; it was as much a part of himself as is some material function a part of the body; it was not something external to him, but his closest idiosyncrasy, joy or suffering. To this man, who first turned to art in his later years, and then perhaps only as to a pisaller, it was apparently a thing inherent, with which perforce he had to live and die.
That this pathological phenomenon should have resulted in aesthetic achieve­ment is no more remarkable than that Nature, of whatever kind it may be, produces beauty. Van Gogh regarded a striving after perfection as a natural morality. He was a cleanly animal. He owed more to Daumier and to Delacroix than to all the Impressionists. Here the peasant, who regretted that Paris did not possess more "tableaux en sabots," found a kindred spirit.
When he took the group of the three topers with the child at the table, from Daumier Buveurs,† he did Daumier the highest honour in his power and–like Delacroix, when he used Raphael's composition in the Vatican for his Heliodorus in St. Sulpice–added to his own laurels by producing one of his most individual pictures. He found in Daumier the justification of his own linear exaggerations, the flaming play of his aspiring lines, that seem to crouch in order to strike more surely.
He had also a great admira­tion for Cézanne, and an unbounded veneration for Monticelli, to whom he was drawn more closely by that magic South where Cézanne painted his fruits and the old gipsy his marvellous colour fantasies. In a letter to Aurier, containing perhaps the most complete revelation of an artist's psychology ever penned–it appears in Aurier Œuvres Posthumes–he almost indignantly assigns the praise awarded to himself to Monticelli, even ranking Jeannin's and the aged Guost's flower-pieces above his own works.
He esteemed Meissonier, because Mauve thought highly of him, and venerated Ziem, because Ziem venerated Delacroix. This naivete does not, however, preclude very delicate appreciations. He speaks of a Monticelli at Lille, "autrement riche et certes non moins français que le Départ pour Cythère de Watteau," and opines that no other artist has approved himself so directly the heir of Delacroix, though Monticelli received Delacroix' teaching at secondhand, through Diaz and Ziem…
These few lines also contain all the physiology of Monticelli that was valuable to Van Gogh. He made his start under the spell of the Impressionists. Pissarro had the same influence upon him as upon Gauguin and later upon Bernard. His Quatorze Juillet à Asnières, one of the very best of his pre-Arlesian pictures, is painted very thinly, the colour divided into minute green and yellow particles on a gray ground.
At Arles he came to think this technique insufficient. He was temperamentally incapable of consistent work on this system, by which Signac fixed the vapourous quality of Southern landscape; and further, he had not time for it. The exact opposite attracted him in Monticelli: the heavy fabric of loaded colour, with which the old magician produced his thousand accidents. Van Gogh exaggerated this, but at the same time, he simplified it, he rejected what was petty and incidental, reduced the palette to single pure colours, laid on in large, coarse fragments, and added his own temperament as the amalgam.